← Back to listing
2014 Vinto Estate Syrah Rhone Blend, 3L
Only ONE left!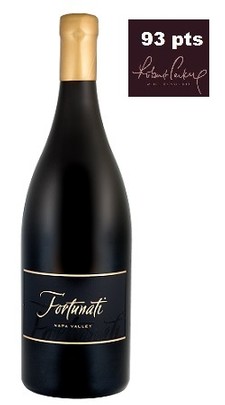 Wine Specs
Appellation
Oak Knoll AVA
Vineyard Designation
Fortunati Estate
Harvest Date
September, 2014
Our entirely estate grown, red Rhône-style proprietary blend of Syrah, co-fermented with a dash of our Viognier. As one of Fortunati's most acclaimed wines, VINTO (which means "winner" in Italian) has earned its name due to its consistent record of receiving national awards, accolades and top ratings. The 2014 vintage was particularly favorable for VINTO; our vineyards enjoyed a mild growing season followed by an exceptionally early harvest, and our location within Oak Knoll District's cooler micro-climate is ideal for bringing out the best in Syrah.
This wine's saturated dark red/purple-black color is impressive and personality-laden right out of the bottle, with compelling fruit and earth aromas immediately asserting themselves. The addition of a small amount of Viognier co-fermented with Syrah elevates the aromatics, with blackberry and blueberry prevalent, layered with subtle hints of mushrooms, loam and cloves. Waves of complex aromas follow, including cracked pepper, coffee, black tea and warm spice. At the front of the palate, flavors of boysenberry, blackberry and black currant are held within a framework of moderately tight tannins. As with our other red wines, VINTO becomes more full-bodied once it has been exposed to air in a decanter or in the glass. The spicy mid-palate fruit shifts to higher tones and suggests red raspberries, cherries and white plum. An intriguing stony minerality also emerges, carried by the wine's bright acid through to the long finish. Between its immediate approachability and its firm grip of enveloping tannins, we're confident that our VINTO Syrah blend will continue its winning streak with Fortunati fans!
Why bigger bottles are better-really! (the advantages of larger formats)
Many studies have been done that indicate larger wine bottles, are better suited for aging wines. Large format bottles age their wine contents more slowly, and possibly even develop more complexity and nuances, than the same wine in smaller bottles. This is due to the smaller amount of air between the cork and the wine, known as "ullage". The amount of ullage can either oxidize the wine, causing it to age prematurely, or develop at a slower pace of maturity. The more air that the surface of the wine is exposed to, the faster the wine tends to develop (thus, why half bottles develop much faster than large formats.) If you're planning on aging a wine for 20, 30, 40 or more years, (such as a bottle put away on the birth of a child or to commemorate a wedding) it will most likely be better if it was aged in a large format bottle. Plus, large format wine bottles look impressive on the dinner table or in a wine cellar!
However, no size bottle and no length of time will make poorly made wine into good wine. This is why you should start off with a well-made wine, such as those made here at Fortunati Vineyards, that have the tannic structure and firm acidity to stand up to time and age with grace, for a truly revelatory wine experience to enjoy in the future!
Wine Specs
Appellation
Oak Knoll AVA
Vineyard Designation
Fortunati Estate
Harvest Date
September, 2014
Wine Profile
Production Notes
200 cases