← Back to listing
Barrel Stave Tray-Party M/L
When the gang's all here!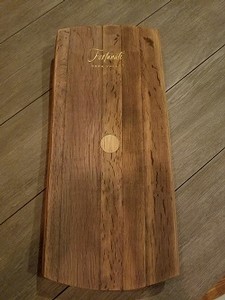 These beautiful, full-size serving trays are made especially for us by local artist, RT, from wine barrels used right here at Fortunati. Their gentle curve and rustic charm eloquently express their former purpose as a French Oak wine barrel that produced liters of fine wine in it's heyday. Made of 3-4 staves, they have cork "feet" for maintaining balance and skid resistance. They turn out to be so useful partially from the gentle curve, and partially from the durability of the wood, that we use them all the time! The curve is just enough to help hold things on the tray without them sliding off, while not being so extreme as to "corral" the items upon it. The food & water resistant oak is already used, and extremely durable, so no one needs worry about scratches, dings or chips! Additional marks only add to the piece's unique character!
While no two are alike, they generally run about 8-10" wide, and about 18-20" in length. We use ours for so many things; it's amazing how often we reach for our trays! Many of you may remember our collection of corks piled upon one of these trays. We also use them for presenting a smorgasbord of cheese, crackers and charcuterie during tastings and parties. Great to spread out books or magazines upon, hold holiday decorations as the centerpiece for entertaining, present fruits and breads-really, the uses are endless!