← Back to listing
Barrel Stave Wall Quote, S/M
Various designs available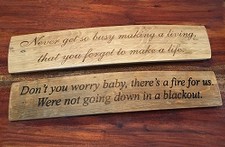 Made from reclaimed Fortunati wine barrels that we pry out of Gary's grasp, our half stave signs are perfect for smaller areas that just need a touch of wine panache, running about 14-16" in length and about 3-4" wide. Depending on the quote, most will roll over onto two lines, necessitating smaller print. Unlike many others staves with printing on them, ours are both etched and stained to ensure that what you see now will remain visable for many years to come. We treasure the imperfections and signs of use as tributes to the beautiful life it had before being given another purpose. No two staves (or signs) are identical. We have a few already made with fun and heartfelt sentiments on them, or ask us to create your custom saying! Special orders (of course) require advance notice and may cost more.
Never get so busy making a living that you forget to make a life.
Don't worry, baby, there's a fire for us. We're not going down in a blackout!