Breaking news! The latest reviews are in - Double Gold, 96pts and more. Click here to view recent accolades and press for Fortunati wines.
Vineyard Practices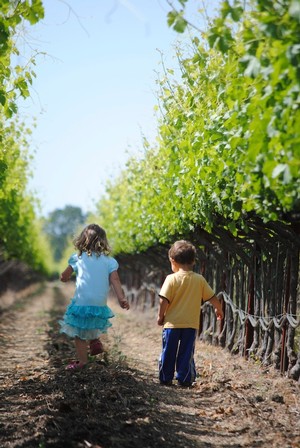 Fortunati Vineyards strives to do what is best for the fruit, the environment and Mother Nature. Our solar power panels provide almost all of the electrical needs on the property. We are nestled among our vines, so remaining herbicide and pesticide free in our vineyard is good for not just the vines, but all of us. We prefer using round-the-clock teams of Bluebirds and California Quail (day shift) and bats and Barn Owls (night shift) to aid in pest removal, and plant natural crops of legumes and clover to protect and enrich the soil.
We practice sustainable farming with minimal human intervention and 'organically' farm as much as possible. We avoid chemical fertilizers and anything with 'cide on the end of it. Using electric powered vehicles and bio-diesel tractors is our commitment to this place, this valley, our future, together.
Appellation: Napa Valley
Sub-Appellation: Oak Knoll District
Acreage: 10+
Soil Type: Sandy Loam
Water source: Drip system via ground well . . . and Mother Nature
Water table depth: 12 feet
Varietals planted: Syrah, Cabernet Franc, Viognier & Malbec (Fortunati is one the few Napa Valley vineyards growing both Viognier and Malbec varietals.)
We sell grapes to both large and medium sized wineries throughout Napa's wine regions.