← Back to listing
2014 Estate Library Dessert Wine, 750ml
Port-style aged to perfection from Fortunati Estate Syrah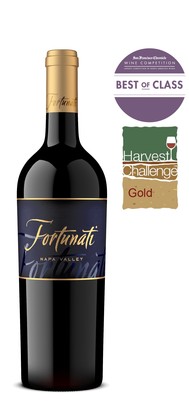 Wine Specs
Appellation
Oak Knoll AVA
Move up to the big time with our newest size of our Port-style Dessert wine! Now in a 750ml bottle, the spirits in this bottle ensure that if it's not finished right away, it will keep beautifully! Described by many as "liquid darkness in a glass" with its nearly-black color, seductive, heady aromas and opulent, rich flavors on the palatte, it captures the magic of lush summer nights full of florals, fruits and spice. Flavors of cherry and blackberry liquers, dark chocolate and fig compote layer the palatte. From our estate Syrah grapes, its extended time in the barrels (almost 2 years) and increased skin-to-juice contact create a firm structure for the dense, rich core, big mouth feel and long sweet finish. It can be enjoyed now or put away for up to 20+ years to celebrate a special occassion. Enjoy as a liquid dessert on its own, or pair with our tin of gourmet dark chocolates for the ultimate indulgence!
Wine Specs
Appellation
Oak Knoll AVA
Product Reviews
Heather
(Oct 28, 2020 at 2:50 PM)
My husband and I absolutely LOVED this. It was like velvet. Smooth, sensuous and delicious. Definitely getting more for christmas gifts and stocking up for us too. It doesn't get much better than this it was seriously perfect. Thank you for Fortunati for this stunning port can't wait to see how it ages!