Breaking news! The latest reviews are in - Double Gold, 96pts and more. Click here to view recent accolades and press for Fortunati wines.
← Back to listing
2015 Pinot Noir, 3L
SOLD OUT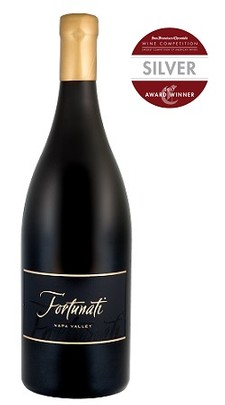 Wine Specs
Appellation
Santa Rita Hills AVA
Planted on hillside vieyards a few miles from the Pacific Ocean near Santa Barbara, three rare, highly sought-after premium Pinot Noir clones -115, 667 and 777- have been nurtured and grown to our specifications (Gary makes numerous trips to oversee the vines). The result is a tiny amount of small, intense fruit clusters for this exquisite Pinot Noir! Expressing a deep, rich fruitiness unique to this cool-climate growing region, generous flavors of ripe cherries, sweet yams and vanilla, with bright acidity and supple tannins delight the palate. A very food-friendly wine, Pinot is well-known to pair well with most meals, and we particularly enjoy it with duck and, of course, stews like beef bourguignon!
Why bigger bottles are better-really! (the advantages of larger formats)
Many studies have been done that indicate larger wine bottles, are better suited for aging wines. Large format bottles age their wine contents more slowly, and possibly even develop more complexity and nuances, than the same wine in smaller bottles. This is due to the smaller amount of air between the cork and the wine, known as "ullage". The amount of ullage can either oxidize the wine, causing it to age prematurely, or develop at a slower pace of maturity. The more air that the surface of the wine is exposed to, the faster the wine tends to develop (thus, why half bottles develop much faster than large formats.) If you're planning on aging a wine for 10, 20, 30 or more years, (such as a bottle put away on the birth of a child or to commemorate a wedding) it will most likely be better if it was aged in a large format bottle. Plus, large format wine bottles look impressive on the dinner table or in a wine cellar!
However, no size bottle and no length of time will make poorly made wine into good wine. This is why you should start off with a well-made wine, such as those made here at Fortunati Vineyards, that have the tannic structure and firm acidity to stand up to time and age with grace, for a truly revelatory wine experience to enjoy in the future!
Wine Specs
Appellation
Santa Rita Hills AVA