Breaking news! The latest reviews are in - Double Gold, 96pts and more. Click here to view recent accolades and press for Fortunati wines.
← Back to listing
2016 Fortivo Red Bordeaux Blend, Magnum 1.5L
SOLD OUT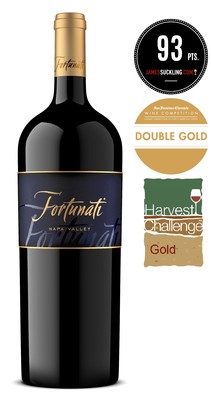 Wine Specs
Varietal
Proprietary Bordeaux Blend
Appellation
Napa Valley AVA
In a larger size-perfect for celebrating special occassions and special friends!
Every year our proprietary red Bordeaux blend is a little bit different, but the flavor profile remains consistent, as the two vintners (Gary and Ellen) carefully mix and blend to just the perfect meritage. FORTIVO blend is full of robust Napa Valley Cabernet Sauvignon, and our estate grown Cabernet Franc and Malbec. The large percentage of Cabernet Franc delivers mouthwatering silky textures, while the other Bordeaux varietals deliver tannins and zest. Fortivo means "Strong" in Italian, and this all-occasion red drinking wine is expecially aromatic due to the Cabernet Franc and Malbec. Opening aromas of plums and blackberries primes the palate for a full, lengthy, flavorful finish. Enjoy now by decanting or cellar for another 4-8 years. As a testament to this wines' popularity, (and the fact that we sell out of the previous vintage too soon every year!) we produced an extra amount of Fortivo in response to it's popularity, a great example of how our Friends of Fortunati subscribers influence our production!
Wine Specs
Varietal
Proprietary Bordeaux Blend
Appellation
Napa Valley AVA