Breaking news! The latest reviews are in - Double Gold, 96pts and more. Click here to view recent accolades and press for Fortunati wines.
← Back to listing
2016 Pinot Noir, 750ml
SOLD OUT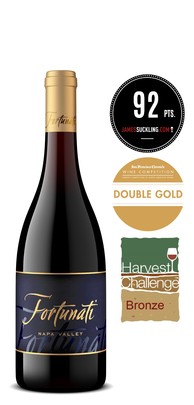 Wine Specs
Appellation
Santa Rita Hills AVA
We were so delighted with the results from our prior (initial) vintage from the acclaimed Santa Rita AVA, that we did it again! This coastal region by Santa Barbara is world-reknowed for the lucsious Pinot Noir growing conditions-cool morning fogs followed by warmer afternoons allow for extended hang time for this delicate varietal. Planted on hillside vineyards a few miles from the Pacific Ocean near Santa Barbara, three rare, highly sought-after premium Pinot Noir clones -115, 667 and 777- have been nurtured and grown to our specifications (Gary makes numerous trips to oversee the vines). The result is a tiny amount of small, intense fruit clusters for this exquisite Pinot Noir! Silky and elegant, our Pinot expresses the rich fruitiness unique to this cool-climate growing region, generous flavors of ripe cherries, sweet yams and vanilla, with bright acidity and supple tannins delight the palate. 275 cases produced.
Excellent with Thanksgiving turkey, rotisseried chicken, pork roasts, rack of lamb, mushroom risotto and so much more! Pinot Noir is known for playing well with foods!
Wine Specs
Appellation
Santa Rita Hills AVA