Breaking news! The latest reviews are in - Double Gold, 96pts and more. Click here to view recent accolades and press for Fortunati wines.
← Back to listing
2018 Pranzo Estate Rosé, 750ml
SOLD OUT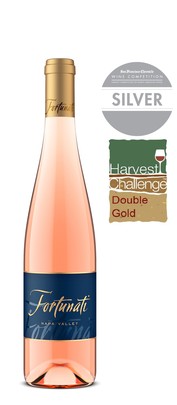 Wine Specs
Appellation
Oak Knoll AVA
Produced from a single block of Syrah vines grown on our Oak Knoll estate specifically for the production of Rosé, the prior vintages of our Pranzo Rosé have been wildly popular! With its range of beautiful aromas, gorgeous color and vibrant, fruit-forward flavors, this wine remains a warm-weather favorite. With its fun and fruity character, (but not too sweet!) this is the wine to enjoy during brunch with friends, at an outdoor lunch ("Pranzo" in Italian) or anytime catching up with friends and sharing a chilled bottle of light delicious wine is called for, and it's absolutely our pick for brunch and pairing with poultry!
The 2018 Pranzo Rosé was just released in January 2019. Voted one of Napa Valley's Top 5 Rosé Wines for the last 5 years, we always sell out of this varietal quickly. Many of our members enjoy this wine for Thanksgiving and Christmas brunch, so don't limit yourself to enjoying this only during the summertime! Count on our Pranzo Rosé to be the perfect wine for entertaining, sharing and pairing with great friends and good food.
The bumper sticker on our vineyard tractor
Wine Specs
Appellation
Oak Knoll AVA