Breaking news! The latest reviews are in - Double Gold, 96pts and more. Click here to view recent accolades and press for Fortunati wines.
← Back to listing
2018 Reserve Cabernet Sauvignon, 3L
Something special!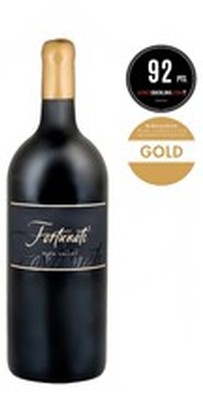 Wine Specs
Varietal
Cabernet Sauvignon
Appellation
Napa Valley AVA
Not every year lends itself to the creation of a RESERVE wine. (We did not make a Reserve Cab in 2015) It takes a special growing year and exceptional fruit to inspire Gary to craft a wine he feels is worthy of being designated a Reserve. This elegant, powerful Cabernet burst with powerful fruit aromas and flavors with a mineral backbone. Delightful aromas of jammy blackberries, cassis, dark chocolate and sweet French Oak, beguile the nose, while the palate enjoys complex, full-bodied flavors of cassis, blackberries, and dark plums accented by a hint of dusty earth and crushed stone. Impeccable balance, bright fruit flavors and finely grained tannins round out this rich, opulent wine. True to form, it displays the power and elegance that is characteristic of our cabernets. We recommend decanting and allowing to rest ahead of service if intending to drink within two years of the release date. Or feel comfortable cellaring this wine for 15 – 20 years.
Why bigger bottles are better-really! (the advantages of larger formats)
Many studies have been done that indicate larger wine bottles are better suited for aging wines. Large format bottles age their wine contents more slowly, and possibly even develop more complexity and nuances, than the same wine in smaller bottles. This is due to the smaller amount of air between the cork and the wine, known as "ullage". The amount of ullage can either oxidize the wine, causing it to age prematurely, or develop at a slower pace of maturity. The more air that the surface of the wine is exposed to, the faster the wine tends to develop (thus, why half bottles develop much faster than large formats.) If you're planning on aging a wine for 20, 30, 40 or more years, (such as a bottle put away on the birth of a child or to commemorate a wedding) it will most likely be better if it was aged in a large format bottle. Plus, large format wine bottles look impressive on the dinner table or in a wine cellar!
However, no size bottle and no length of time will make poorly made wine into good wine. This is why you should start off with a well-made wine, (such as those made here at Fortunati Vineyards!) that have the tannic structure and firm acidity to stand up to time and age with grace, for a truly revelatory wine experience to enjoy in the future!
Wine Specs
Varietal
Cabernet Sauvignon
Appellation
Napa Valley AVA