Breaking news! The latest reviews are in - Double Gold, 96pts and more. Click here to view recent accolades and press for Fortunati wines.
← Back to listing
2020 Pinot Noir, 3L
Only 10 made!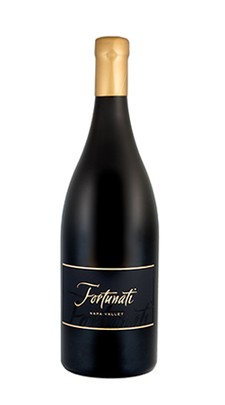 Wine Specs
Appellation
Santa Rita Hills AVA
This coastal region by Santa Barbara is world-reknowed for its ideal Pinot Noir growing conditions-cool morning fogs followed by warm (not hot) afternoons allow for extended hang time for this delicate varietal. Planted on hillside vineyards a few miles from the Pacific Ocean near Santa Barbara, three rare, highly sought-after premium Pinot Noir clones -115, 667 and 777- have been nurtured and grown to our specifications (Gary makes numerous trips to oversee the vines). The result is a tiny amount of small, intense fruit clusters for this exquisite Pinot Noir, and we've been so pleased with our prior vintages! Expressing a deep, rich fruitiness unique to this cool-climate growing region, generous flavors of ripe cherries, sweet yams and vanilla, with bright acidity and supple tannins delight the palate.
Pinot is known as the most "food friendly" of all varietals, and ours certainly displays this characteristic-we love this wine with almost everything! However, we do recommend Pinot Noir as particularly good savored with turkey, pork and grilled veggies. It's soft, supple aromas and flavors ensures this wine plays well with others!
Why bigger bottles are better-really! (the facts behind aging in large formats)
Besides the obvious fact that large format bottles have an impact and presence that smaller bottles don't, there have been many studies that conclude larger wine bottles are better suited for aging wines, and possibly even develop more complexity and nuances than the same wine in smaller bottles. If you're planning on aging a wine for 10, 20, 30 or more years, (such as a bottle put away on the birth of a child to commemorate a graduation, wedding or other anticipated future event) it will most likely age better=taste better if in a large format bottle. This is due to two main factors:
The amount of air-to-wine ratio is smaller (proportionally) in larger bottles. Air is not your friend when it comes to aging wine, as it causes oxidation and speeds up flavor development, preventing flavors from attaining their full complexity. Every bottle of wine has a gap of air between the cork and the wine, known as "ullage". The amount of ullage stays about the same regardless of the size of bottle, but obviously the volume of wine is much greater in the larger sizes, thus larger formats have less surface area exposed to the oxidizing affects of air in the bottle. Additionally, corks (which are porous) allow for small amounts of air to move in and out of the bottle. This is further minimized by encasing them in wax (large formats) or foil caps (750mls) but again, the cork-to-wine ratio is much smaller in the larger formats, meaning less air trickling in to affect the contents proportionate to the smaller size bottles.
Durability. Larger size bottles don't merely look bigger, they are also thicker, which has a double benefit of both insulating the contents from sudden temperature changes and reducing vibrations. These bottles are meant to last, so all the added durability means you can feel safe storing magnum bottles at home in a cabinet or on a countertop-it doesn't have to go in the wine 'fridge for the next 20 years! Do "lay them down" (store so that the cork remains in contact with the wine to keep the cork moist) keep out of direct sunlight and away from known heat sources (so in a windowsill or over a heater vent are not good locations!)-then enjoy when the time is right!
However, no size bottle and no length of time will make poorly made wine into good wine. This is why you should start off with a well-made wine, such as those made here at Fortunati Vineyards, that have the tannic structure and firm acidity to stand up to time and age with grace, for a truly revelatory wine experience to enjoy in the future!
Wine Specs
Appellation
Santa Rita Hills AVA