Breaking news! The latest reviews are in - Double Gold, 96pts and more. Click here to view recent accolades and press for Fortunati wines.
← Back to listing
9 Liter-Your Choice! Customized Request
When size really does matter...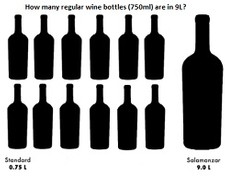 Wine Specs
Appellation
Napa Valley AVA
We offer the perfect solution for an elegant, thoughtful gift that will truely be appreciated-your choice of any of our lovely wines in a large format custom etched bottle of your design! Large format bottles are available in 3L, 6L, 9L (and even larger) and are ideal for acknowledging mergers, acquisitions, special family events (weddings, anniversaries, births, etc) and rewarding winners for their efforts. Imagine your logo, name, dates, designs-whatever you want! We'll take it to our local glass artisans who will etch your design directly into the glass to create a lasting, permanent piece of one-of-a-kind art that will grace any cellar, hallway or office.
Of course, advance notice to create your special design is required, but typically takes about 3 weeks. So give us a call to discuss-we've got great suggestions if you like the idea but are stumped on the final design. Actual price, vintage, varietal, alcohol, etc. is dependent on the wine you select for your special bottle.
Why bigger bottles are better-really! (the advantages of larger formats)
Many studies have been done that indicate larger wine bottles, also called "large format", are better suited for aging wines. Large format bottles age their wine contents more slowly, and possibly even develop more complexity and nuances, than the same wine in smaller bottles. This is due to the smaller amount of air between the cork and the wine, known as "ullage". The amount of ullage can either oxidize the wine, causing it to age prematurely, or develop at a slower pace of maturity. The more air that the surface of the wine is exposed to, the faster the wine tends to develop (thus, why half bottles develop much faster than large formats.) If you're planning on aging a wine for 20, 30, 40 or more years, (such as a bottle put away on the birth of a child or to commemorate a wedding) it will most likely be better if it was aged in a large format bottle. Plus, large format wine bottles look impressive on the dinner table or in a wine cellar!
However, no size bottle and no length of time will make poorly made wine into good wine. This is why you should start off with a well-made wine, such as those made here at Fortunati Vineyards, that have the tannic structure and firm acidity to stand up to time and age with grace, for a truly revelatory wine experience to enjoy in the future!
Wine Specs
Appellation
Napa Valley AVA