← Back to listing
Packaging-Gift Box-Blk Texture, Gold Band, Magnum
1.5L-Magnum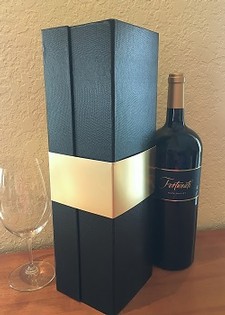 Build anticipation by enrobing your 1.5L bottle in elegance! Our black gift box with gold sleeve tastefully expresses your thoughtfulness and sophistication. The black exterior has a subtly textured pebbled surface that is a delight to touch, while the sueded ivory interior allows the beauty of the bottle within to shine. Our festive crinkle-cut paper surrounds your bottle, adding to both the suspense and safety of the contents. The lid closes gently using tiny, invisible magnets, making this an easy-to-open, easy-to-close quick wrapping option. The box remains closed when encircled by the elegant gold band, and elastic straps ensure the bottle stays secure while transporting. Our tasteful Fortunati enclosure cards are available for you (or us) to handwrite your sentiment. Not suitable for shipping, but perfect for gifting!
​(Box only: does not include wine or glass)
Local delivery of your thoughtful gift may be available, just ask!