← Back to listing
Accessory-Wine Pourer 5-in-1 Tool
Called the "Swiss-Army knife" for wines!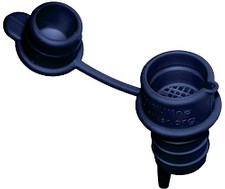 Duplicate your professional wine experience at home! This 5-in-1 versatile wine tool (Aerator, Filter, Pourer, Re-Corker and Stopper) is as essential as a good corkscrew for any bottle, and makes a thoughtful gift to include with a favorite bottle.
Aerator – instantly enhances bouquet and flavor

Filter - helps prevent cork residue, sediment and tartrates from entering your glass

Pourer - drip-free pour control

Re-corker – never struggle with a cork again

Stopper – store wine spill-proof on its side in the refrigerator
Enhances EVERY glass of wine, allows effortless serving while preserving expensive contents and preventing evaporation and degradation. Made in the USA from inert, FDA approved, BPA-free material, this corker does not strip out wine esters/aroma like wine vacuums, and fits ALL natural, synthetic and glass corked 750 ml and 1.5 liter wine bottles. In addition to wine, use this corker to replace sticky corks on liqueurs, as a perfect stopper for fine single malt whiskey, and as a sanitary culinary cork for balsamic vinegars because it will not absorb nor alter aroma or flavor of contents. Ours are called "Blue Beauty" and enhance the look of Fortunati's bottles.
Dishwasher safe
Use again and again
Completely inert - no taste or odor
Soft to the touch - pliable and easy to manipulate
Exceptionally durable
FDA approved - BPA-free
USA designed and manufactured