Breaking news! The latest reviews are in - Double Gold, 96pts and more. Click here to view recent accolades and press for Fortunati wines.
← Back to listing
E-Gift Card Fortunati Vineyards
Share the Fun!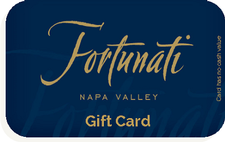 Easily share good fortune and give the gift of great wine with our convenient E-Gift Cards! Chose any combination of e-cards with our $25, $50, $100, $250 and $500 denominations!