Breaking news! The latest reviews are in - Double Gold, 96pts and more. Click here to view recent accolades and press for Fortunati wines.
← Back to listing
Virtual Kit Rhone Set
2-Bottle Sampler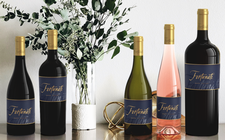 Experience Includes :
A Virtual Tasting Lead by Our Wine Educator
1-2022 Estate Viognier, 750ml
1-2020 Vinto Syrah, 750ml
1-Haley's Corker - Wine Pourer (5 in-1 Tool)
1-About Us Card
Complimentary Shipping for Limited Time
(Virtual appt booked separately.)
Please Note: Upon the conclusion of your Virtual Tasting, should you decide to join our Fortunati Subscription Program, your new membership discount will retroactively be applied to the cost of your tasting kit when making your first wine subscription purchase.