Cabernet Sauvignon Meatball Sliders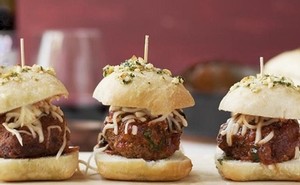 Recipe Date:
September 7, 2021
Measurements:
Imperial (US)
We fell in love with these tender meatballs cooked in our RESERVE Cabernet marinara sauce and then served on a mini garlic ciabatta roll. This delicious recipe was provided by Jonathan Melendez of Candid Appetite.
Ingredients
1 lb Ground Sirloin
1 lb Ground Pork
2 Large Eggs
1/2 cup Breadcrumbs
1/2 cup Grated Parmesan cheese
2 tsps Salt & Pepper, combined
1/2 tsp Chili Flakes
2 Garlic Cloves
1/4 cup Fresh Parsley, chopped
1/2 cup Milk
2 tbsps Olive Oil
Cabernet Marinara Sauce:
1 Yellow Onion, chopped
2 Garlic cloves, minced
2 tsps Salt & Pepper, mixed
3/4 cup Fortunati Cabernet Sauvignon
1 oz 28-oz can crushed Tomatoes
8 ozs can Tomato Sauce
1 tbsp Tomato Paste
1/2 cup Fresh Basil, snipped or chopped
The Garlic Rolls:
1 Package Mini Ciabatta Rolls-about 10-20
4 tbsps unsalted Butter
4 Garlic cloves, minced
2 tbsps Fresh Parsley, chopped
1 cup Mozzarella cheese, shredded
Directions
The Meatballs: In a large bowl, combine the ground sirloin, ground pork, eggs, breadcrumbs, parmesan, salt, pepper, chili flakes, garlic, parsley, and whole milk. Mix until well combined. Portion out the mixture into 15 (or so) meatballs that are all the same size. Place them in a single layer on a plate or platter as you shape them.
Heat a large skillet over medium-high heat. Add the olive oil and heat through. Once hot, sear the meatballs in batches, sautéing until brown and crispy on all sides. They'll finish cooking later in the sauce. Transfer the browned meatballs to a platter or plate, and continue searing the rest.
The Wine Sauce: Discard all but 1 tablespoon of grease from the skillet and add in the chopped onions and garlic. Sauté for about 5 minutes or until soft and translucent. Season with ½ teaspoon salt, ½ teaspoon pepper, and chili flakes. Stir in the Fortunati wine (don't forget to take a sip!) and allow to cook down by half. Add in the crushed tomatoes, tomato sauce, tomato paste and the remaining salt and pepper. Bring to a simmer and cook for about 15 minutes. Lower the heat and add the seared meatballs. Cover and simmer for about 45 minutes.
The Rolls: Right before serving, preheat the oven to 350 degrees F. Place the rolls on a baking sheet. In a small saucepot melt the butter, and add the garlic and parsley. Cook for about 5 minutes on low to develop the garlic flavor. Brush the garlic parsley butter on the rolls and bake for 5 minutes to toast in the oven.
Assemble the sliders: Stir in the chopped basil into the meatballs and remove from the heat. To assemble, split the rolls in half and place one meatball on the bottom part of each roll. Spoon over some of the cabernet marinara sauce and sprinkle with cheese. Skewer the top bun with a toothpick and serve!