Filet Mignon with Mushrooms and Pinot Noir Sauce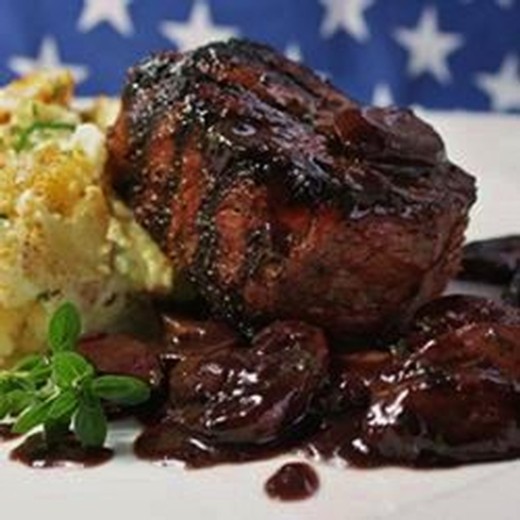 Recipe Date:
September 20, 2021
Measurements:
Imperial (US)
Decadent, yet easy enough to prepare after work, and fast enough to go from kitchen to table in 20 minutes, this delicious recipe using our Pinot Noir is a perfect pair
Ingredients
2 8-oz filet mignon steaks
kosher salt and fresh ground black pepper
2 bacon strips
2 tbsps olive oil
1 lb assorted mushrooms (chitake, cremini, chanterelle, oyster) stemmed and halved
1 tbsp finely chopped garlic
2 springs rosemary
2 cups Fortunati Pinot Noir (about 1/2 bottle) cook gets the rest!
2 tbsps prepared demi-glace (avail at most gourmet grocery stores)
2 tbsps unsalted butter
Directions
Preheat oven to 375 degrees F.
Season both sides of the filet mignon generously with salt and pepper. Wrap a piece of bacon around the sides of each steak and secure with butcher's twine. In a large ovenproof skillet, heat the olive oil over medium-high heat until almost smoking. Place the steaks in the hot pan and cook until well seared on 1 side, about 3 minutes. Turn the steaks over; there should be a nice crust on top. Add the mushrooms, garlic, and rosemary; give everything a good stir. Transfer the pan to the hot oven. Roast for 10 to 12 minutes or until the steaks are cooked medium-rare.
Remove the steaks, mushrooms and rosemary to a platter; cover to keep warm. Return the pan to the stove over medium-high heat. Deglaze pan with Fortunati Pinot Noir, scraping up all the yummy bits in the bottom (don't forget to pour the cook some, too!) mix in the demi-glace and stir to combine. Put the steaks and mushrooms back in the pan and coat in the pan sauce. Finish sauce with a couple of tablespoons of butter. Place steaks on serving plate, remove twine, spoon mushrooms over top and pour the Fortunati Pinot Noir sauce on top, garnish each plate with a rosemary sprig. Serve with a fresh green salad and plenty of Fortunati Pinot Noir!