Seafood and Chicken Paella Rosé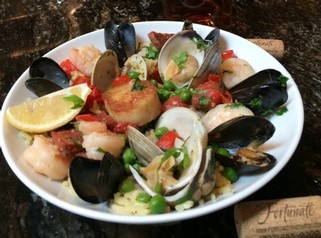 Recipe Date:
May 11, 2021
Measurements:
Imperial (US)
A Spanish Paella can take many variations based upon region, but most agree it's a savory rice dish flavored with saffron, and using various meats such as chicken, pork, seafood and/or beef (but, can also be vegetarian, too!) and typically cooked in a large shallow pan. If you don't wish to invest in your own paella pan, use the largest, shallowest skillet you can find. Our recipe is from Chefs Jose and Mila from Mila's Catering in Washington D.C. based upon their own family's Spanish paella background!
Ingredients
2 lbs Chicken Breasts, diced
2 lbs Chicken Thighs, diced
2 lbs Pork Sausages (optional)
5 ozs Fortunati Olio d' Oliva (Olive Oil)
3 Garlic cloves, chopped fine
2 Medium Yellow Onions, diced
2 Bell Peppers, 1 ea green and red, diced, seeds removed
3 Fresh Tomatoes, diced (or one can of diced tomatoes)
2 cups Arborio Rice
1/2 tsp Saffron Threads, crushed
1 tsp Sea Salt
3 1/2 cups Chicken Stock, kept hot
3/4 cup Fortunati Rosé of Syrah
18 Fresh whole Clams, cleaned*
18 Fresh Mussels, cleaned*
20 Large Shrimp, peeled and de-veined
1/2 lb Calamari, cut in strips
1/2 lb Medium Scallops
4 ozs Frozen Peas
4 ozs Roasted Red Pepper (garnish) cut in strips
2 Lemons (garnish) cut in large wedges
Directions
Use a paella pan that serves 12-15 guests. Brown the chicken and pork in the olive oil in the paella pan. Remove and reserve. Sauté garlic, onions, peppers in the paella pan, add the browned meats back in, and the diced tomatoes, stir.
Add the rice, saffron, salt and stir well to coat rice with oils and pan juices. Add half of the chicken stock and all the Rosé wine, and bring mixture to a boil. Cover the pan with foil and place in a 400º oven for about 8-10 minutes. Add the shrimp, calamari, scallops, frozen peas and the rest of the stock, stir. Place the clams and mussels on top of the rice (See note below)
Cover again and place back in the oven for 10-15 minutes, until the shrimp are cooked through and all ingredients are very hot. Remove from the oven and garnish with the roasted red peppers and lemons.
*Note: If you wish, steam the clams and mussels beforehand. Reserve the liquid in the steaming pan and add to the chicken stock. Important-Place the clams and mussels on top of the rice during the last 5 minutes of preparation.