Slaw Salad with Orange Ginger and Viognier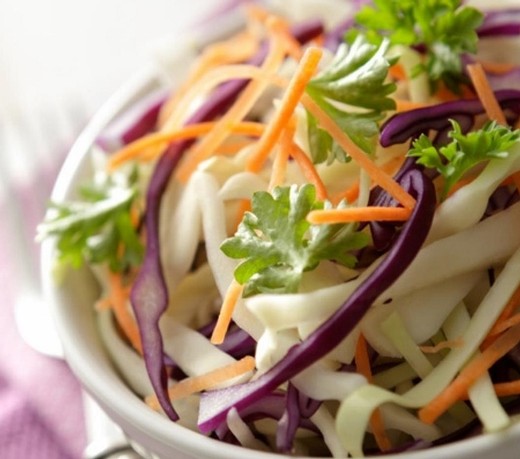 Recipe Date:
May 12, 2021
Measurements:
Imperial (US)
Refreshing and light, this is the perfect dish for a light meal salad for two, or as a side salad for many.
Ingredients
The Slaw
1 cup Red Onion, thinly sliced
3 cups EACH of Napa Cabbage, Red Cabbage and Green Cabbage, finely shredded
1/3 cup Green Onion, sliced on the bias
1/4 cup Fresh Cilantro, chopped
1/4 cup Carrots, shaved
1/4 cup Red Peppers, diced
1/4 cup Celery, sliced
1 tsp Fresh Ginger, peeled and minced
1 tsp Honey
The Vinaigrette
3 tbsps Fresh Squeezed Orange Juice
2 tbsps Shallots, finely chopped
4 tbsps Fortunati Estate Olio di Oliva (Olive Oil)
4 tbsps Rice Vinegar
4 tbsps Fortunati Viognier
Directions
Combine the Vinaigrette ingredients and set aside. The longer all ingredients mix, the better the flavors. Don't forget to take a sip of wine as you mix these items together! Lightly combine all the slaw ingredients, toss with the vinaigrette, and complement the rest of your meal with a nice cold glass of Fortunati Viognier!